Sensei Victor Anderson, Godan, of Sacramento Judo Club died unexpectedly March 31, 2013.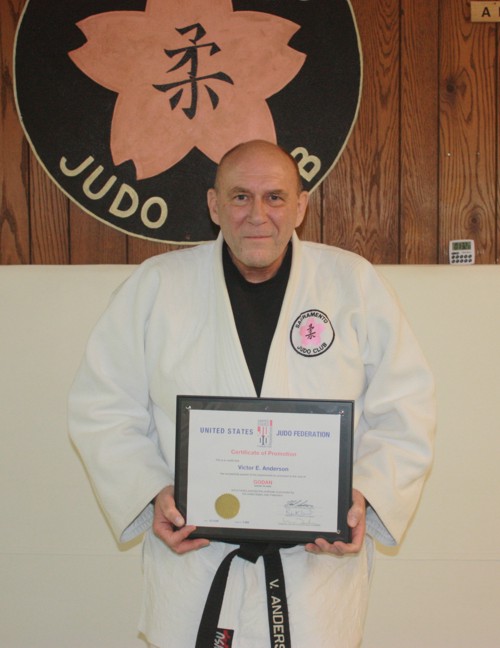 He was a life-long member of the US Judo community. He has been a member and contributing senior instructor of Sacramento Judo Club, a member of the Sacramento Judo Club Board of Directors serving as its Secretary for many years and a member of Hokka Yudanshakai since 1986. He was also an active member of the United States Judo Federation and USA Judo. He has been a Nationally Licensed Referee since 1993 frequently officiated at Judo Competitions throughout California and a certified National coach.
The day before he died, he conducted a Saturday class at Sacramento Judo Club.
He started judo in 1960 as a teenager in Hayward, California at the Hayward Judo Club under Instructors C. Temple and Jack Turrentine. While enlisted in the US Army and afterward, Victor worked in many locations within and outside the United States. He obtained his shodan in Judo from the Korea Judo Association while he was stationed there. Where ever he went he found a judo dojo to train at. Where they did not exist, he would start one like at Fort Hood and Fort Belvior when he was enlisted in the US Army. He appreciated and studied the history of Kodokan and Olympic Judo. He wrote an article on "The Four Pillars of Judo" which can be found on the internet.
Victor Elon Anderson was born on April 12, 1945, in Bend, Oregon. He died suddenly on Sunday, March 31, 2013, peacefully in his sleep. He has been a resident in Elk Grove, CA since 1986. He was a retired Health Physicist. He is survived by his wife Lois, six children, five grandchildren and 3 great grandchildren.
A memorial service to share in the celebration of his life will be held at St. Mary's Episcopal Church, 9085 Calvine Road, Sacramento CA at 3:00 pm on Saturday, April 6, 2013. In lieu of flowers, donations may be made to St. Mary's Memorial Fund.