Onchi Sensei's family have asked me to post that all are welcome to the viewing and the services honoring Onchi Sensei.
There will be a viewing at Rose City Funeral Home Friday, Jan. 25th from noon to 5pm, Sat. From 9 – 4pm, Sun. 1pm – 4pm & Mon. – Thurs 9:30am – 5pm.
… There will be a honor guard service on February 1, 2013 at 12 noon at the Willamette National Cemetery and burial at Lincoln Memorial at 12:30pm.
Addresses:
Rose City Funeral Home
5625 NE Fremont St Portland, OR 97213
telephone: (503) 281-3821
Willamette National Cemetery
11800 SE Mt. Scott Boulevard
Portland, OR 97086-6937
telephone: (503) 273-5250
fax: (503) 273-5251
Lincoln Memorial Park Cemetary
11801 SE Mt Scott Blvd Portland, OR 97086
telephone: (503) 771-1117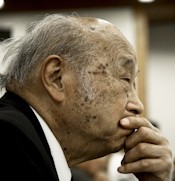 photo courtesy of the Obukan Judo Dojo
Rod Conduragis wrote on 24 January 2013
I post with a very heavy heart that Onchi Sensei took his last bow at 8:45am this morning.
---
Previously Rod Conduragis wrote
I visited Sensei twice yesterday. I just couldn't stay away. He is in the very last stages of passing on. Sensei has a very strong spirit and is struggling to hang on. I brought him the photo of his last dojo picture with Obukan. I held his hand and thanked him for all that he has done for all of us in judo on and off the mat. I thanked him personally what he has done for me. One thing about Onchi Sensei is that not everyone agreed with his stubbornness, but no one could argue that his heart was always in the right place, putting Obukan and Judo for the kids first. Judo was Sensei of giving back and showing his love. Even a few weeks ago when he could talk very little, he asked about the kids and Obukan. He reminded me to teach good judo to those kids (we are all kids in Sensei's eyes) and told me to keep the Obukan family going. I told him he would be proud of how well everyone is doing at the club. He smiled. But last night as Sensei was struggling to breath he held my hand and would not let go. I bowed and continued to thank him. As I left I said bye to him. He turned his head to me and whispered bye back to me twice. I had no idea that he even knew I was there. I am telling you all this because I ask that you have Onchi Sensei in your thoughts and prayers as he takes his last bow.
Toshio Ichinoe earlier wrote
I would like to inform current and past members of Obukan Judo Dojo as well as members of the Northwest Yudanshakai on the status of Onchi-sensei. As some of you may know, Onchi-sensei, our great sensei and individual who re-founded our club the past year, is going through the final stages of his life. He currently is with his wife, Fumi, at a nursing facility in SE Portland.
I strongly ask you to send words of encouragement and support to his family during these difficult times. Onchi-sensei has not only been a foundation and prominent figure for the organization, but to the sport of judo as a whole.
Toshio Ichinoe,
Head Instructor
Obukan Judo Dojo, Inc.