The Jeremy Glick Award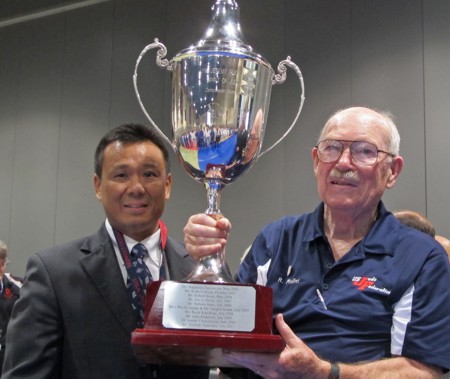 Pictured with the Glick Trophy are USJF President Kevin Asano and the recipient, Mr. Richard Muller.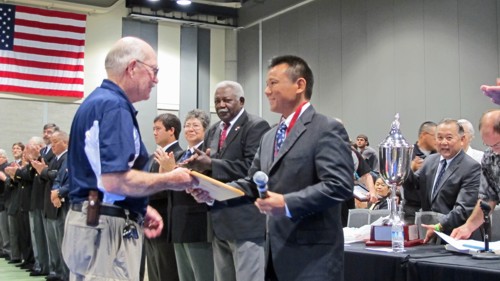 The Glick award ceremony for Mr. Richard Muller was a touching moment for those who could reflect on the 9/11 disaster. As a retired military man and voluntary legal council for the USJF for decades, he received an award that is about courage and doing the right thing at all cost. The award is named in honor of Jeremy Glick who heroically sacrificed his life in the plane crash on 9/11. Many people were in awe of Jeremy Glick's calm composure and chivalrous demeanor during the final moments of life. Especially impressive was his last conversation with his wife and how considerate of her he was.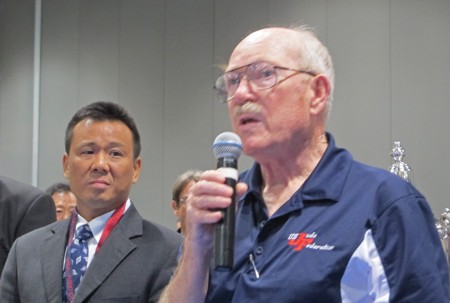 This award is based on the spirit of Judo – courage, compassion and character. The recipients are honored for their many years of leadership, development of people, development of Judo, and courageous dedication in insuring the continued success of Judo and the USJF. Although Mr. Muller was very humble at such a moving tribute and honor, those of us who know and respect Sensei Muller were genuinely proud to have him recognized as yet another compassionate and courageous representative of the United States Judo Federation.
The Batsugun Award
Batsugun was awarded to Cody Castello at the Tournament by USJF President Kevin Asano.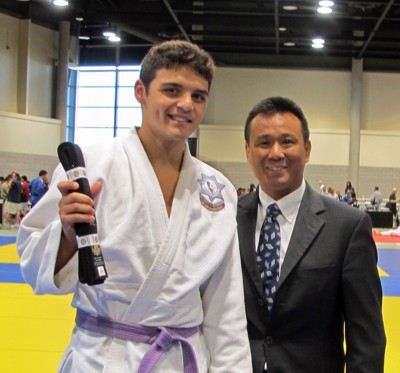 The instant promotion to shodan, or 1st degree black belt. was awarded to Mr. Cody Castello, Makimoto Judo-Vacaville PAL Judo Club (Head Instructor is Gordon Makimoto). Cody had an outstanding day meeting all the criteria necessary for Batsugun. Castello was in the IJF Junior category of those born 1993-1995. He previously held the rank of sankyu or 3rd kyu; Batsugun moved him 3 ranks skipping the 2nd and 1st kyu or all of the brown belt ranks. Cody is very well-mannered on and off the mat and would make any instructor proud to have as a student.
Batsugun Shodan promotion at Grassroots Judo™ Junior, Team, & Kata National Championships.
There is a new Batsugun promotion for shodan rank tied directly to performance in our Grassroots
Judo™ Junior, Youth, Team, and Kata National Championships. This new standard differs from
current Batsugun promotion to shodan in that this criteria only applies to competition results
obtained at our premier national Jr. & youth shiai event.
USJF & USJA National Competition Shodan Batsugun Rank CRITERIA:
To be eligible for Grassroots Judo™ National Competition Shodan Batsugun Rank, the candidate
must satisfy the following criteria:
Enter the Grassroots Judo™ Junior, Youth, and Kata National Championships shiai
competition ("our Nationals") as a registered member of any national judo organization; and
Hold any current brown belt rank (proof of rank will be required for this purpose); and
Be at least age 14 years as of the competition date; and
In any one individual competitive division, achieve one of the following records:
Defeat no less than three opponents each holding current brown belt rank with at least one win by ippon;
OR
Defeat no less than five opponents of any rank by ippon; or
In two (Juvenile B and IJF Junior) individual divisions at the same event, defeat five or more
opponents by ippon, at least three of whom hold brown belt rank.
In case the Batsugun candidate shall not then be a current USJA or USJF member, such
membership shall be required as a condition to receiving the USJF or USJA rank certificate & rank
card; however, the standard USJA or USJF shodan promotion fee shall be waived for this one rank
award.
The Eldred Award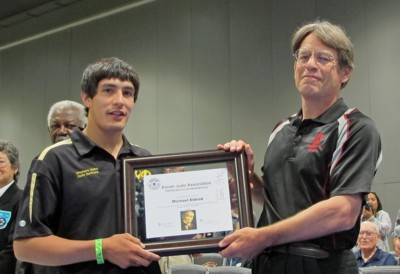 Michael M. Eldred (left) awarded by Mr. Steven DeRaedt, President – Konan Judo Association. The Executive Committee of the Konan Judo Association awarded Michael Eldred of Fruitland, Idaho an Honorary Konan Life Membership.
This award is in recognition of Michael's dedication, perseverance. tenacity and accomplishment in elite international competitive judo and his embodiment of the ideals of judo. Michael resides in a remote area of the country. He has had to travel far afield at great personal expense over many years for top international competition and training. He has made many personal sacrifices striving to excel at judo. Despite this busy schedule, Michael has been a great friend to Konan, leading several clinics for our young players. During his visits, he has shown himself to be an exceptional role model for our Konan kids, and for all judoka. embodying the ideals of judo: Michael is modest , unassuming, hard-working and fully committed to the sport of judo. At the same time, Michael understands the importance of education, and reminded our young judoka that they must be good students and good citizens as well as good judo players.
(Note: readers should know Michael Eldred participated in the 2012 Olympic Trials in the 73kg category. His competition earned 7th place at the London Olympics)
Gary Goltz
Gary Goltz, representing the US Judo Association, spoke at the Tournament.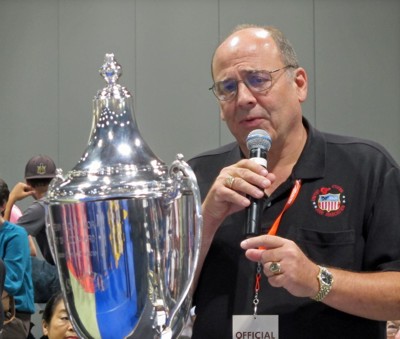 Thanks given to the regional sports commission
Bert Mackey, tournament director, thanks Brad Moller, VP Spokane regional sports commission, for their support of the 2012 USJF-USJA Junior Nationals.