The last trip to Korea was our 6th participation.
Once again it was very worth while trip and very much learned and enjoyed ( See attachment letters from students).
The training session was four session per day, first day we cannot follow due to lack of training experience so we did two sessions only.
The second day we started to catch up with three session per day until the end of the training camp.
Also we have one day good friendly team competition ended up 3 – 1 for Korean Team.
The attendees from the USJF made me very proud. They had excellent attitude toward training and behavior as young Judoka.
I really appreciate your support and feel that the attendance by USJF is beneficial to the students as well as to the sport of Judo.

---
During this summer I was caught up with day to day activities and lots of judo trainings, when all of a sudden my father asks me and my brother if we're interested in going to Seoul, Korea for a week's summer training session. It would take place in one of Korea's best judo high schools. At first, I was completely baffled and I didn't know what to say. As soon as I cleared my mind, I knew this would be an experience like no other that would improve my judo, and, hopefully make me grow culturally and as a person.
Well, next thing I know, I'm on a 13 hour flight to Korea with my brother and a friend (PUR Judo Team) ready to train like never before. Completely motivated and not knowing what to expect, we waited anxiously. Finally, we arrive at Seoul and are taken in by Mr. Joon Chi, and are presented to the USA Judo Team.
After we take a bus to the high school, we are given the latest news on what will be our schedules, etc. When we arrive at the high school we go to the tatami and watch the korean students do a 3 hour randori (fighting) session after 3 previous practices that day, which was most impressive. Then, we are shown the bed rooms and realize we will be embracing "all" korean traditions… Yes, even sleeping on the floor. At first it was a bummer, but believe me when I tell you that after a day's training session that floor got to be very comfortable!
We were then presented with a few of the korean students that took us in as part of the family. The korean students could speak little english, but that was no problem for dialogue could be done by signs. As the days went by, it quickly felt as if we were part of the family, for korean students and sensei treated us with great hospitality. During the meals, the students would take us in their tables and kindly teach us how to use chopsticks the proper way. It was actually a lot of fun and we made great bondings with some korean students.
In relation to the judo trainings, they were always a challenge. We would have morning runs and exercise, and two judo training sessions that consisted mostly of randoris.
A normal day consisted of the following:
Wake up at 5:45am to run, do drills, and intense exercise until 7:00am.
Take a shower and have breakfast.
Rest for the upcoming judo training sessions.
At 10:30am we had to be in the tatami ready to practice until 12:00pm.
Take a shower and have lunch.
Rest for the upcoming judo training session.
Be in the tatami at 3:30pm until 5:00pm.
Take a shower and have dinner.
Sleep.
Other than training, we had the chance to take a day to go sight seeing and shopping, and have a sauna relaxation afternoon. We were taken to an ancient Korean dynasty castle which was absolutely amazing! Afterwards, we went into a museum and learned all about Korean heritage and history. This would all be followed by shopping, and then a great dinner.
The next day, we were given the opportunity to go to the sauna which was an excellent idea after all the intense trainings we had surpassed. We got into big jacuzzis, sauna, cold pools, charcoal sauna, and even an igloo! It was the perfect activity after such a rough week. This was one of the most enjoyable parts of the trip, it was a lot of fun!
After a rough week of training and living with a great group of teammates, it was time to say goodbye. I cannot say that I wouldn't do this again. The trainings were rough, but it was absolutely a great experience for me and my teammates. My expectations were completely exceeded and I thank Joon Chi again for making this whole experience possible. Thank you!
Carlos Nazario
---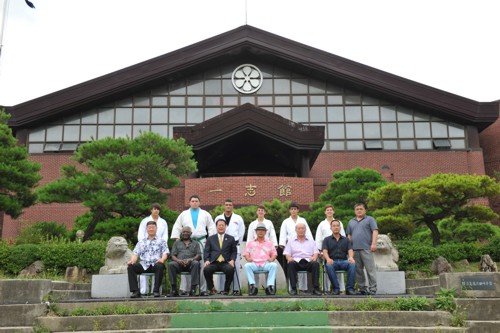 Dear Sensei Chi,
It is with great pleasure that I express my gratitude to you for picking me to represent USJF and the United States in Incheon (Seoul) Korea. I took great pride to be a part of the high school delegation and hope I represented myself properly both in the training sessions and socially. Sensei, I also want to thank you for designating me as the team captain.
I enjoyed the tour of the city and surrounding area to see and experience the Korean culture; I especially like the freindships I developed with some of the Korean athletes at Incheon high school. The restaurants and buffet at the hotel was so good. The mall was truly big but the spa was extremely nice after the long week I had, to be able to relax at the spa was exhilarating. The heated tubs, saunas, and the ice room were really relaxing.
All in all Korea, its culture, its cuisine, and its people, I think everyone should get an opportunity to experience. It is a culture and country made up of gracious and strong people that have great pride in themselves and their Judo. Thank you Sensei Chi, Professor Ha and all the athletes and senseis at Inchron High School
Sincerely,
L. A. Smith
---
Last week I went to Korea to train. It was a pretty awesome experience since I'm preparing myself for the cadet worlds next year. Going to Korea and fighting with them was great preparation. Through the randoris I learned better kumi kata which is fundamental in judo. Then fighters from Incheon High School came when they heard that the US team was in Bibong High School and came to fight with us giving me the opportunity to fight with different type of athletes.
Also they took us sightseeing in a Korean village, and they took us to the famour Korean rib restaurant which was really good.
Overall it was a great experience and preparation for me. I am truly grateful with the opportunity that has been given to me. To visit and learn from Korean culture enriched me as a person and athlete. My family and I thank Joon Chi and all the Koreans that made this happen.
Sincerely,
Adrian Gandia Gines
---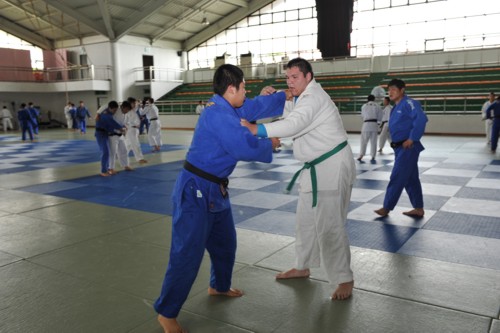 Hi, my name is Jorge Nazario and I'm going to share my experiences on the judo training I just had in Korea. Coming into this I didn't know what to expect although I had already read a review from the year before. I had read that there were going to be cultural trips, other Japanese training clubs, and translators. The review was amazing, almost too good to be true. When I arrived to the airport our sensei, Joon Chi, informas us that there had been an accident with the place where we were going to train. There had been a wreck causing the original event to be cancelled. Luckily we still got to go to Korea's best judo training club with amazing athletes. These guys trained four arduous practices each day, and we ended up training with them three of the four practices. We ran in the morning from 6–7 AM, ate breakfast, then trained and fought from 10:30–12:00, to then eat lunch, to finally practice and fight again from 2:30&ndash4:30PM. After the last practice we ate our dinner to then go to sleep in our room with beds or air conditioning. Yes, after a hard and tiring day of training you had to go to sleep on the floor. All these Koreans slept on the floor like it was a bed. Although the rooms weren't too good, at least the food we ate was amazing. They took us to restaurants, to buffets, a museum and even an amazing sauna. The museum, aw well as the ssauna was truly amazing as well as relaxing and inspiring. I have leaned so much in this trip and feel like have grown in a lot of ways. These guys had so much discipline and it was truly an amazing experience to live as they did for an entire week. I got to nake amazing Korean friends although we couldn't communicate aw well and I got to train and see how these guys train year-round. I definitely improved my judo in this trip
Special thanks to Mr Chi and Mr Smith for all the help and experiences.
---

Going to Korea was an amazing experience that I'll never forget. I experienced some of the toughest training of my ife, made friends with many students of another country, and had the pleasure of seeing the different culture and lifestyle of Korea. It was also interesting to see the differences in the citires and forested areas as to that of the US. Korea's climate wasn't as hot as California, but the humidity made it much more tough to train. Every practice ended in cloths dripping with seat hanging all around the room, me shaking from exhaustion, and a strong gain of 12 lbs by the time I came home. I'd like to thank Joon Chi for finding me in California and bringing me on this trip like no other, and my Sensei Ernie Smith for accompanying me on this trip, and my parents for their love and support.
William Wright
---