Dear U.S. Judo Federation,
Thank you so much for your continued generous production support. Mrs. Judo: Be Strong, Be Gentle, Be Beautiful had its world premiere in March, to a packed house at the Castro Theater, for the San Francisco International Asian American Film Festival in March. It was a wonderful and moving experience with Fukuda Sensei up on the stage following, for a standing ovation from nearly 1,400 people. In May, Fukuda Sensei and I presented an excerpt of the film at the Commonwealth Club in San Francisco. Pam Mery, Wilina Monar and Fran Christie then presented a demonstration of ju-no-kata. It was very well received and so great to see the expanding audience of judo and Fukuda Sensei fans.
I was a recipient of the prestigious Cal Humanities grant this spring. I recently attended a meeting with all of this year's grantees. It was truly an honor to be there and it was wonderful to see Fukuda Sensei's story represented as a part of this very significant body of work.
For those who read Japanese, Shogagukan in Tokyo has just published a biography of Fukuda Sensei. I hope that later this year I will be working together with Shogakukan, to bring the film to Japan.
We have been working hard on the distribution of the film and will report updates on screenings and other events as they develop.
Thank you!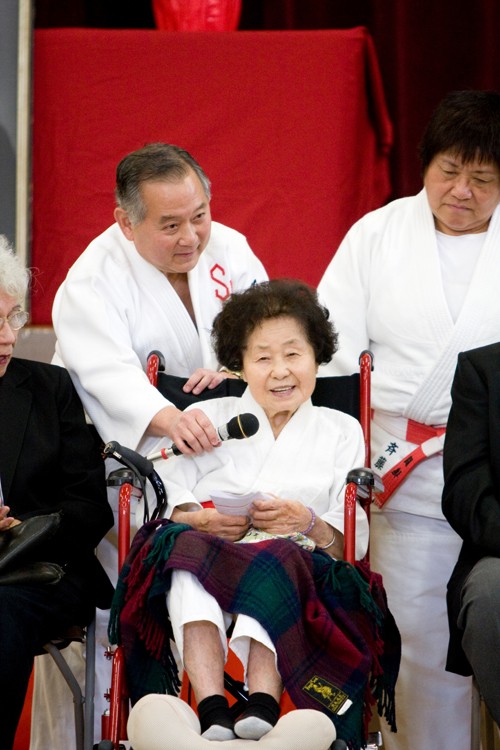 Yuriko Gamo Romer
Flying Carp Productions
4235 25th Street
San Francisco, CA 94114
415-641-4232 phone
415-264-9125 cell
ygr@flyingcarp.net
www.flyingcarp.net