On Saturday, Oct 29, 2011, the first of a series of (6) Shintaro Nakano Dynamic Judo Clinics was held – 61 students attended including ten students from the San Jose State University Judo team. Marti Malloy, London 2012 Olympic hopeful, and Olympian Keith Nakasone (Moscow, 1980) assisted at the clinic.



In the morning session, Nakano sensei explained the basic principles of mat techniques. He then built and added on to those principles as he went from one hold down to another by using body movement and basic principles instead of strength and brute force. In the process he informed us as to specific techniques that work for him that may be different from the more conventional skills.
In the afternoon session of the clinic, Nakano sensei built on the basic principles of body movement and off balancing to show us specific throwing techniques that work when there is true use of the principles of taisabaki and kuzushi. The young students, some as young as 7 years old, who attended all worked hard and Mr. Nakano had their undivided attention for the full session. At the end they all had displayed great awareness of the basics and principles discussed. They all seemed very proud of what they had learned. Young students as well as older veteran instructors all felt this was a special learning session from a very special person.
Mr. Nakano has agreed to conduct a series of six clinics that started on October 29, 2011 and will conclude in May of 2012 for the Central Coast Judo Association. During this time he will travel to different locations in central and northern California to share his knowledge and skills with others. His style is unique and very special, for he shows through his humble but dynamic demeanor an explosive but gentle, strong but relaxed Judo.
The second clinic in the series will be held at the Uchida Hall at the San Jose State University campus on Saturday, January 28, 2012 at 10:00 AM the day before the 64th Annual San Jose Buddhist Judo Club and 20th "Sensei Memorial" Invitational Judo Tournament.
About Shintaro Nakano and his workshop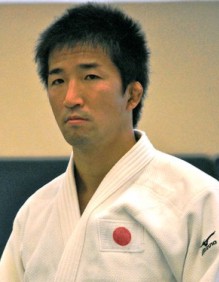 Shintaro Nakano, is technical assistant Coach at San Jose State University Judo and a graduate of Chuo University, Japan. He was the 60K and 66K All Japan Industrial Champion and U.S. Open Champion.
Mr. Nakano was introduced in San Jose at the recommendation of Mr. Isao Okano , the 1964 Olympic Light Heavyweight Champion. Mr. Nakano's dynamic, explosive, gentle, relaxed style of Judo drew much attention at the 2009 U.S Judo Open Training Camp in San Jose.
This Clinic Series will provide an opportunity for the student, competitor, or instructor, to learn a step by step breakdown of Mr. Nakano's unique, technical application of Judo waza, and his approach to Competitive Judo. Many believe the grass roots development of Judo needs to be reintroduced to this more traditional stand-up style of Judo.
The type of Judo that will be taught at this clinic series will exemplify true Judo technique without the overuse of strength and power. Not a physically intimidating Judoka, Mr. Nakano's has a soft, but explosive style of tachi-waza techniques and combinations, along with his wide knowledge of newaza techniques. He demonstrates this in randori practices, as he easily throws his opponents twice his size and weight.
A part of the clinic series goal, is to address the issue of an athlete competing against the power and strength style Judoka. We have been seeing this more frequently in young Judo development: the one dimensional competitor.
The trend towards fighting for the Ippon, along with the New Rules, eliminating the "leg grabbing" and power wrestling type of techniques, this style should benefit all to achieve a better understanding of his approach to Judo and Competition.
In this development clinic series, Mr. Nakano will demonstrate exercises and drills, these serve to increase one's speed, movement, entry, agility, and flexibility as it applies to his wide variety of techniques through his style of Judo.
You as an instructor have been teaching and developing your student with your own training, style and application of Judo. We believe this clinic series will enhance and improve the Judo waza you and/or your students have developed.
Judo in our opinion has become one dimensional. It transitioned to this state we believe, following the rule changes in 1974; the "Koka" Era in U.S. Judo competition. Judo strategies in competition have changed, ie. gaining a minimum score of Koka, and then tactically, stalling out the rest of the match, using methods such as incite penalties (shidos) on an opponent, by playing the 5 second rule in the red, danger zone, or causing an opponent to go out of bounds.
Current changes to the rules have re-opened an offensive, attacking style fight strategies. For now techniques such as leg picks and kataguruma are eliminated and penalized in competition. Since not all Judo programs and classes are directed towards competition, many aspects of his techniques and execution can be applied in this softer, non-power Judo.
This will be a progressive clinic series. Each clinic, at various locations throughout the central and northern California areas, will cover new topics and techniques, with a short review of the previous clinic topics. We encourage everyone to attend all the clinics.
Head Clinician: Shintaro Nakano, Chuo University, 60K and 66K All Japan Industrial Champion and U.S.Open Champion
Special Assistance and Instructional Aid will be given by The San Jose State University Judo Team