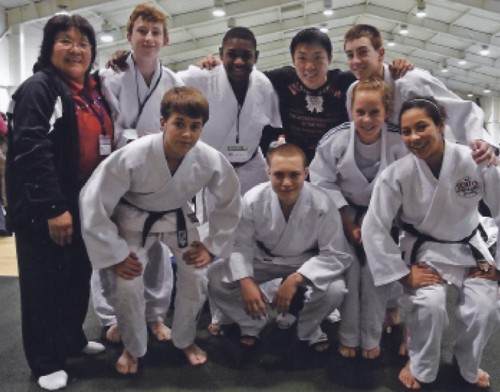 first row: Nicholas Joseph, Andrew Buckley, SKye BRuce, Gabriela Gomez, back row: Eiko Shepherd, Cooper Sciascia, Solomon Jackson, Koga, Raya Osborn
The 2011 Sanix Junior High School World Championship in Fukuoka, Japan was an unforgettable experience. Seven students, Skye Bruce, Andrew Buckley, Gabrielle Gomez-Zubieta, Solomon Jackson, Nicholas Joseph, Ryan Osborne, and Cooper Sciascia represented the United States. We were accompanied by Sensei Saito, VIP, and Mr. Gerald Wee, USA delegate. I served as team coach. Our team looked fabulous, thanks to the uniforms provided by USJF. Special thanks to Sensei Saito for his diligent effort to raise funds.
The Sanix tournament is unique because judoka of junior high age are the focus. Most international tournaments are for high school and adult players. This tournament was only for students who are 13 or 14 years of age in junior high. Our team met other judo students from China, Chinese Taipei, Hong Kong, Latvia, The Netherlands, Russia, Japan, and South Africa. During open practice, it was good for our students to see how other judo students train. On and off the mat our students had a priceless international experience through Judo.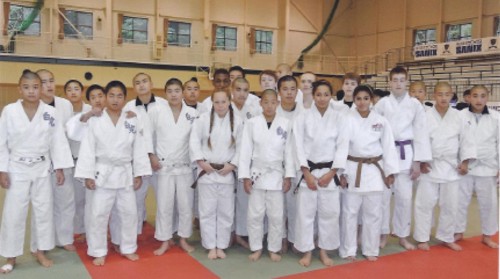 judokas at Sanix
The level of instruction was superior. Olympian, Sensei Inoue, gave a 2 day clinic and taught his techniques. It was thrilling and motivating for our young students to be on the mat with Sensei. At one point, Sensei Inoue told me that as a child many people helped him. He now wants to give back that way of kindness to these children. Sensei Koga, was also present. Our students were so happy to have their photographs taken with these famous Judo Champions. These Olympians are champions not only in Judo but as people. I am sending these photos with this report.
Our team members worked well together and supported each other. In the first round we had 2 wins and three losses. Although that eliminated us from the second round, all of our students had opportunity for much more competition. The next day they participated in a practice tournament in which each player had approximately 15 good matches. They gained great experience and represented the USA in the best ways. Sensei Imamura, a VIP from the USA, complimented our students for their manners and thougtfulness.
This was the 9th year that the Chief Director of Sanix Sports Foundation, Mr. Shinichi Munemasa, and his staff including Mr. Stefan Getov and Mr. Isamu Kondo planned this phenomenal event. Everything was so well organized. Interpreters, facilities, schedules and food were perfect. These people were so kind to all of the guests. At the end, Mr. Kondo came to the Fukuoka airport to see the teams off. He thanked me for bringing our USA team.
As a coach, I have never before participated in such a remarkable international program for junior high students. Our students travelled to Japan, the birth place of Judo, were trained by Judo Olympians, and practiced with students from around the world. Where else could young students have such a priceless experience? Let's support this next year!