Frank Seishi Emi, one of the seven leaders of the Heart Mountain Fair Play Committee (FPC), passed away on Dec. 1. He was 94.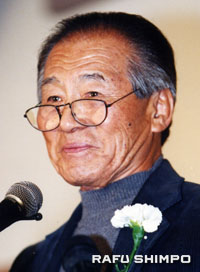 Before becoming known as a resister, the Los Angeles-born Emi was recognized for his judo prowess. He started out as a student at the Hollywood Judo Dojo in 1937, and eventually became the dojo's head instructor. He reached the 8th dan and continued to go to the dojo until a month before his passing. In 2007, the Southern California Judo Association, the largest judo organization in the U.S., presented Emi with the Nanka Hall of Fame award.
Gary Freeman, Robert Iwasaki and Masanori Hase have been taking over Emi's responsibilities at the dojo.
Freeman, who has known Emi for the past 50 years, said, "He was a good leader and teacher. Everyone looked up to him, and he was well respected by all the students. He could be strict but it would be for the benefit of the student."
Iwasaki, who has known Emi for 30 years, started out as one of his students. "He was a person who was strong in his ideals and convictions," said Iwasaki. "I fully supported what he did during the war, even though I was in the military for a number of years. It was fully justified. And thinking about the pressures he experienced, I appreciate it even more."
Hase, who has known Emi since 1998, was also one of his students. "I got to know Emi Sensei when he was older, so he didn't wrestle too much with the younger guys," said Hase. "He was hands-off. He'd observe and give us pointers but he wanted you to figure things out for yourself. He wasn't a person that fed you information. You had to work it out for yourself."
In addition to his wife, Emi is survived by daughters Kathy and Eileen; several grandchildren; a sister, Kaoru; and stepdaughter, Rie. He was preceded in death by his son Grant, who was born at Heart Mountain and fulfilled Emi's dream of becoming a pharmacist; his first wife, Amy; older sister Hisako; and brother Art.
Funeral service will be held on Friday, Dec. 10, at 10 a.m. at the Nichiren Temple, 2801 4th St. in Boyle Heights, (323) 262-7886.