This year five people were honored with entry into the Hall of Fame.
Rena "Rusty" Kanokogi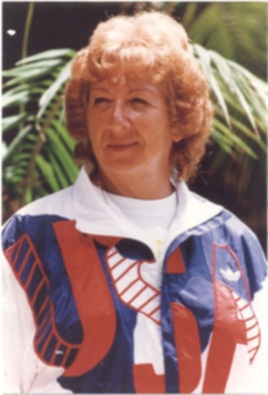 Rusty is often called "the Mother of Women's Judo".
She lived for judo. She was passionate about judo as a participant. Her entry into Judo was in 1959 when she disguised herself as a man to compete in the YMCA Judo Championships. She beat all the men in the weight division, and when she was about to receive the gold medal she was disqualified because she was not a man. In 2009 the New York state YMCA finally awarded her that medal she won so many years before. That was the beginning of her activism for women in judo.
Rusty was a former member of the Women's Sports Foundation Board of Trustees (1996-2001) and former chair of the International Women's Sports Hall of Fame Alumnae Association. She is featured in the Women's Sports Foundation book, "SuperWomen: 100 Women 100 Sports." She was inducted into the International Women's Sports Hall of Fame in 1994 and received the 1991 Women's Sports Foundation President's Award.
Many other awards were given to Rusty. In 2001, she was presented with the bronze medal by the International Judo Federation. In 2002, she received a citation from the Brooklyn borough president for her contribution to the Brooklyn fitness program. She also was given the 2002 Woman of Achievement Award by Kingsboro Community College. In 2007, the USA Judo Referee Commission voted unanimously to award the John Osako Award for excellence in refereeing to Kanokogi. The prestigious John Osako Award is given to those who have worked continuously to develop their referee skills and contribute unselfishly to the Olympic sport of judo.
She dedicated herself to the whole of judo, a fact that was acknowledged by Japan when she was awarded the highest honor bestowed to a foreigner by the Japanese government, the prestigious "Emperor's Award of the Rising Sun" in 2008.
Rusty said that what she got from judo was more precious than any medal. "Judo saved my life. It put me on the right road. It gave me structure when I needed it." She dedicated her life to offering the same to others, especially children.
Her whole life advanced the cause of Women's Judo, and that work influenced the whole of Judo. Many Olympic competitors were eloquent in paying her tribute upon her death from cancer in November 2009. Rusty was named 1988 Olympic Coach, and Jason Morris competed in his first Olympics then. He wrote, "I recognize that my debt of gratitude to her is immeasurable. Without Rusty's life's work women might still not be playing judo today. Without her, life my life would be very much poorer."
Jimmy Pedro
Jimmy was born October 30, 1970 in Danvers, Massachusetts wnd coaches and teaches in nearby Wakefield.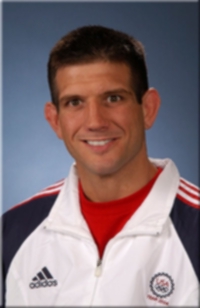 Jimmy is one of the most successful American judo competitors, having won two bronze medals in the Olympics. He was the World Champion at 73 kg in 1999. He won bronze medals in the 1991 and 1995 World Championships. Pedro represented the United States in the 1992, 1996, 2000, and 2004 Olympic Games, winning bronze in 1996 and 2004. The United States has not traditionally been strong in judo, and a bronze medal in Olympic judo is an enormous accomplishment for an American athlete.
Jimmy explains his approach to Judo this way. "My approach is that it's not about winning, it's about trying and doing your best, and I tell my kids that all the time."
Ronda Rousey
Born February 1, 1987 in Riverside County, California, Rousey qualified for the 2004 Olympic Games in Athens, becoming the youngest competitor in those entire Games, at just 17.
In that year she won a gold medal at the 2004 World Junior Judo Championships in Budapest, Hungary. She has won numerous medals at 63kg and 70kg. Rousey became the first American to win an Olympic medal in women's judo since its inception as an Olympic sport in 1992.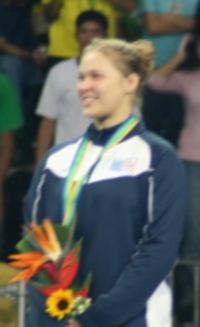 Ronda now trains in the Olympic Training Center in Wakefield, Massachusetts under guidance of Jimmy Pedro.
Ronda styles her web site with "following the judo life – from a blonder perspective," and she would advise youngsters – "Don't grow up too fast, make the most of your childhood."
Jason Morris
Jason started his Judo Journey in 1975 at the age of 8 and retired after his fourth appearance at the Olympics in 2000. Jason's competition career spanned 26 years. Included among the many awards and titles Jason won is a Silver medal in the 1992 Olympics and a Bronze medal at the 1993 World Championships.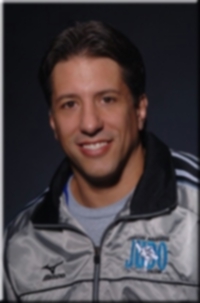 Jason receiving award
Morris competed in four Olympic Games, and won bronze in the 2002 World Championships. Today he owns and writes for Real Judo magazine, is the head instructor at the Jason Morris Judo Club. Morris lives in Glenville, New York. He went to Burnt Hills high school then Syracuse University where he was an All-American Wrestler and now is coach of many major elite judo athletes from all over the country, including, AZ, CA, PA, TX. Jason Morris' training center who he runs with his wife, Teri Takemori is one of the top training centers in the country.
Once a year the Jason Morris Judo Center holds a tournament, the Morris Cup that brings competitors from all around the nation and other countries, including Great Britain and Canada.
Jason Morris was 2008 U.S. Olympic Team Coach.
Joey Wanag
A 1992 Olympian, won a Silver Medal at the 1991 World Champion and Gold Medals at the 1990 World University Games and the 1991 Pan-Am Games.