July 10, 2009 – An unforgettable evening!
Sensei Fukuda, Dr. Kano's only remaining student, celebrates her 96th birthday in her hometown of San Francisco!
On July 10, 2009, Sensei Fukuda was honored by the Fukuda Scholarship Committee with a celebration of her 96th birthday. Eighty one friends and family gathered at the Clarion Hotel in San Francisco for this special event.
Sensei Keiko Fukuda started practicing Judo in 1935 at the age of 21 at the Kodokan in Tokyo, Japan. She was instructed by Dr. Kano. She is the last living student of Dr. Kano in the world.
Dr. Kano wanted his students to share judo around the globe. All these years, Sensei Fukuda has done that. She taught around the world. In 1966 she moved to San Francisco. At the age of 96, she still teaches at her dojo 3 times a week!
The evening activities began with a report from the Fukuda Scholarship committee, the sponsor of this event. The Fukuda Scholarship committee raises money to help fund kata and shiai players. Eiko Shepherd, the committee chair, told the guests that the funds are growing with everyone's support and two scholarships are now awarded every year!
The president of USJF, Mr. Neil Simon, gave the opening toast and everyone enjoyed a delicious meal and good conversation. The atmosphere was so pleasant and everyone was so happy to see Sensei Fukuda.
After dinner, guests enjoyed a slide show featuring moments from Sensei Fukuda's teaching trips to Australia. Her Judo students from Australia sent photographs, a large donation to the scholarship fund, and a message of congratulations to Sensei Fukuda. They were sorry they could not be with her but they are thinking of her.
Next, filmmaker, Yuriko Gamo Romer, showed a short clip of a docummentary film she is currently making about Sensei Fukuda. Everybody was so impressed at how the film maker captured the passion with which Ms. Fukuda has devoted her life to Judo. (See the film clip on UTUBE Be Strong, Be Gentle, Be Beautiful.) Following the video, our USJF president, Neil Simon, gave a congratulatory speech.
An open microphone session gave people an opportunity to express their feelings and appreciation to Fukuda Sensei. The second generation of her students spoke of how their parents received lessons from her and always held her in great esteem.
One very touching moment was when the daughter of the Kaisaki Sensei spoke at the microphone. Both her mother and father were long time judo friends of Sensei Fukuda. Her mother recently passed away. Her father, now 97 years old and in a nursing home, told his daughter she must come to represent the family at this celebration. After she made a speech, the Kaisaki family made a very large contribution to the Fukuda Scholarship Fund.
Finally, Sensei Fukuda spoke thanking everyone who came to celebrate her special night. Everyone felt it was a wonderful evening and all shared a part of Judo history with Dr. Kano's dedicated student.
The Fukuda Scholarship Committee would like to express sincere gratitude to the following who made this celebration possible:
Sensei Eiko Shepherd for initiating the celebration and contacting overseas students.
Dr. Leslie Minot who made the arrangements for the dinner. Her many hours of efforts to organize this event made for a wonderful evening.
USJF National Office for their consultation and support.
Sensei Vaughn Imada for taking time to make contact with many people about the celebration.
A message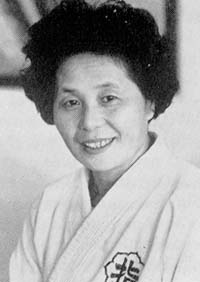 To my Judo Family,
Tonight you made my dream come true. Since the USJF Junior Nationals are in my hometown, San Francisco, I have the chance to celebrate with you in my 96th year. I understand that people as far away as Canada and Australia are here in spirit and supporting this celebration. I am very, very happy.
My Sensei, Dr, Kano, wanted to bring the world together through Judo. We have all bonded together through Judo. Now I am seeing the second generation of my Judo family. This is called "friends forever". I want to express my deep appreciation to my Judo Family for being here tonight. I know that Dr. Kano would be very happy for me.
Keiko Fukuda Kodokan 9th Dan
Photos of the Fukuda Sensei banquet
.
Click on the link above to view the photos. The following page will ask you for a password. The password is "jitakyoei".
If you put your mouse cursor over the enlarged pictures (not the thumbnail) a menu will pop up on the right side displaying options for downloading higher resolution formats of the picture you are currently viewing. The resolution should be good enough for prints up to 8 x 10 and even a bit larger.
We shot these pictures on behalf of the San Jose Buddhist Judo Club. They are free for you to use. We only ask that you credit "Jennifer Dao and Arik Dao from San Jose Buddhist Judo Club."
Please let us know if you run into any problems, or have any questions. Tournament pictures from the Junior Nationals are to come.
Thank you!
Arik-Quang Dao, San Jose Buddhist Judo Club