Eldred Wins Gold & Makes USA's World Judo Championship Team
Hot off his bronze medal finish at the Pan American Championships,
Michael Eldred of Fruitland and the Western Idaho Judo Institute,
continued his pursuit of a judo berth at the London 2012 Olympic Games
by winning the gold medal in the Male 73 Kg category at the 2009 USA
Judo Senior Nationals Championships at the Town & Country Resort and
Convention Center in San Diego, California, on Saturday, April 18,
2009. This win also earned Eldred the Male 73 Kg slot on 2009 World
Judo Championship Team.
As the top seed, Michael drew a first-round bye and then met Alfred
Raymond (Rhode Island) and threw Raymond with an Ouchigari (major
inside reap) for an Ippon (instant) win. In the next round, Eldred
threw Illinois' Travis Yamanaka with a Kouchigari (minor inside reap)
for another Ippon. In the next round, California's David Torres became
Eldred's 3rd victim for the day via a counter attack for an Ippon to
put Eldred in the final against Massachusetts's Nicholas Delpopolo.
Despite the fast-paced and explosive action, neither judoist was able
to score until 4:48 when Delpopolo used a Kataguruma (fireman's carry)
to score a yuko (1/4 point). With just 12 seconds remaining, it seemed
that Delpopolo had the win sewn up and would force a best of 3 playoff
between himself and Eldred to determine which one of them would earn
the 73 Kg slot on this year's World Championship Team. With 3 seconds
remaining, Delpopolo was penalized for a false attack, still leaving
Eldred with no score.
Then, with just 2 seconds between himself and the gold medal,
Delpopolo attempted an Uchimata (inner thigh throw) attack. Eldred
then took advantage of the attack and then executed a Kosotogake
(outside leg block) counter-attack, scoring a Wazaari (1/2 point) just
as the buzzer sounded. After a discussion by the referees to confirm
that the technique did start before time expired and that the score is
valid, the match was awarded to Eldred.
This earned Eldred his first Senior National Championship title and
also the right to represent the USA at the 2009 World Judo
Championships, which will be held in Rotterdam, Netherlands, later
this August.
Adding icing to the cake, due to Michael's decisive wins, Eldred was
named the Outstanding Male Athlete for the event. 4/21/2009 –
——————————–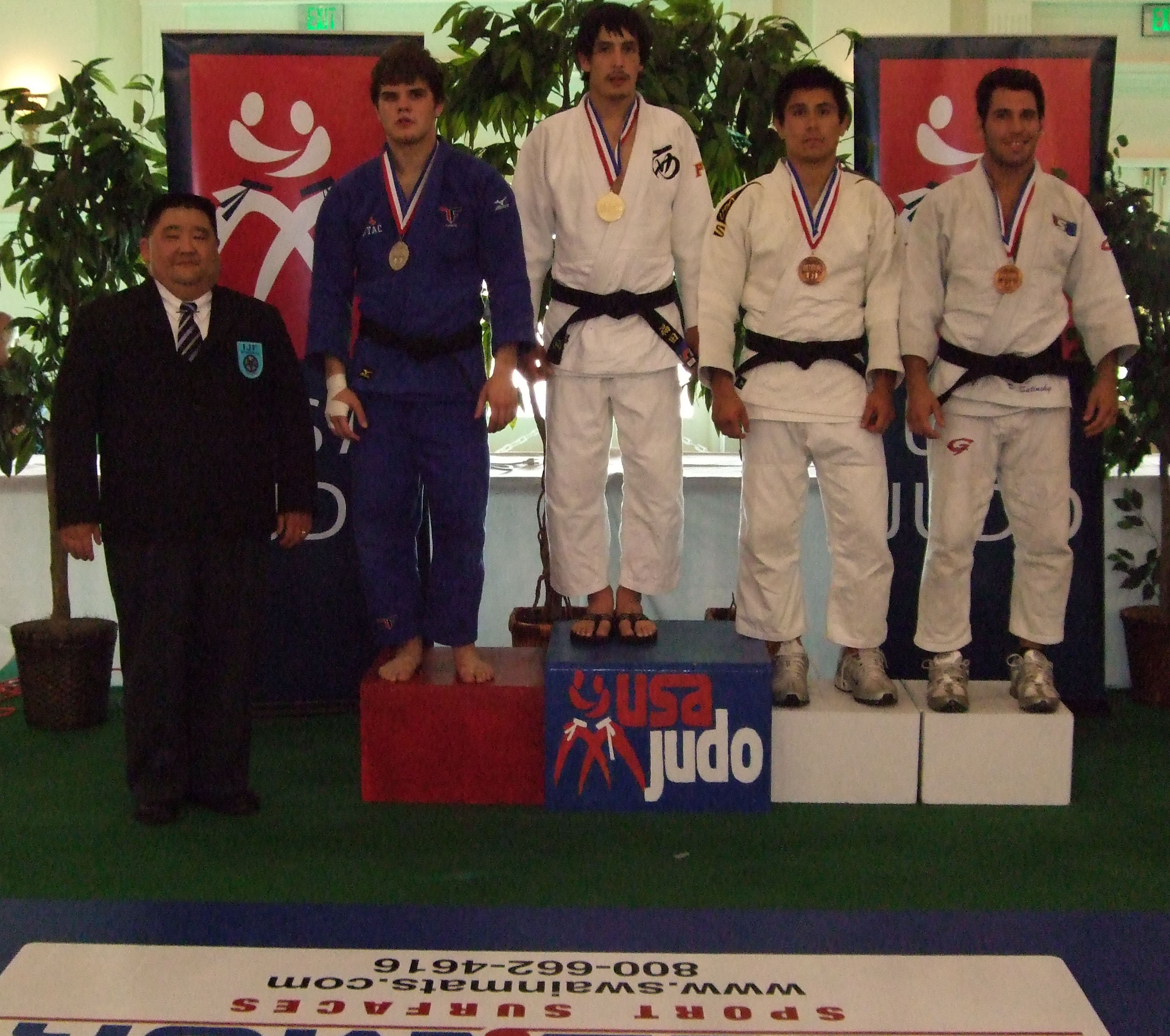 —————————–
From left to right: Robert Fukuda – Presenter, Nicholas Delpopolo/MA
– Silver, Michael Eldred/ID – Gold, David Torres/California – Bronze,
Danny Satinsky/Illinois – Bronze.