Joon Chi inducted to the PanAmerican Judo Union Hall of Fame
Joon K. Chi was honored last week by induction into the PJU (PanAmerican Judo Union) Judo Hall of Fame. The PJU consists of 42 countries throughout North America, Central America, South America and the Caribbean.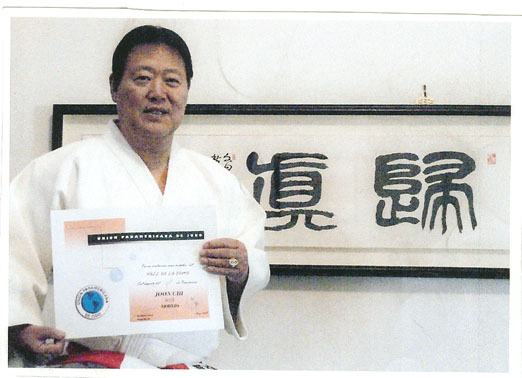 On the International level Chi has also officiated at 2 Olympic Games, 4 World Championships, 2 Junior World Championships, 2 World University Games, 2 World University Championships, Good Will Games, 3 Pan American Games, 5 Pan American Championships, the Monaco Grand prix, the Moscow Grand Prix, the French Open, 13 German Opens, 7 Korea Opens, Kano Cup, Fukuoka Women, China Open, Cuba Open, 3 Benito Juarez, 5 Canada (Rendez Vous) Opens, 2 Puerto Rico Opens, Hungary Open, Italian Open, Dutch Open, Spanish Open, 3 Pacific Rim Championships, 3 Central American Games, Austria(Leonding) Open, 1995 Brazil Special Event, Shoriki Cup Japan, Swedish Open. 20 US Opens, 10 US Junior Internationals, and 8 New York Opens.
On the National level Chi has officiated at many years of US National Championships, National Sports Festival, National Collegiate Championships, National High School Championships, Chicago Open and many other Domestic Championships. These are the actual refereeing tournaments.
Chi conducts Referee Seminars worldwide several times per year. These seminars are conducted to update current referees in changes in rules and trains referees for certification to officiate in Judo.
He has been a Pan American Judo Union Referee Commission Member since 1998. The Commission overseas Judo competitions throughout North, Central, Caribbean and South America (42 Countries). He is on the US Judo Referee Committee, which is under the jurisdiction of the US Olympic Committee. Also he is a Sixth Ring Member of United States Olympic Committee.
His many years of world travel have expanded his languages from English, Korean and Japanese to some Spanish. Chi is 8th Dan Judo, NWA (Northwest Airlines) Customer Service Supervisor, Chairman of Referee Development and Certification Committee of the USJF (United States Judo Federation, USOC (United States Olympic Committee) Sixth Ring Member, and PJU Referee Commission Member.
Chi and his family lived in Edina for 30 years and recently moved to Shakopee, MN.
The PanAmerican Judo Union released these notes when Joon Chi was inducted to the PanAmerican Judo Union Hall of Fame
Boca Chica, Dominican Republic, October 17th, 2008. During the Panamerican Judo Union ordinary congress Mr. Joon Chi International Referee from the United States of America who has participated in Olympic Games, Paralympics, World Championships, World University Games, Panamerican Games, Panamerican Championships and a Panamerican Judo Union Referee Commission member for more than 10 years was inducted to the Panamerican Judo Union Hall of Fame of the Panamerican sport of judo with a simple but very emotional ceremony in the city of Santo Domingo, Dominican Republic. The standing room only ceremony was celebrated in the halls of the Dominican Bay Convention Center, where everyone gave an outstanding ovation.
Joon was born in the city of Seoul, Korea on the 31st of March of 1944, he started his career of this magnificent sport at a very early age that encloses a connotation of the life of Joon Chi, and that is why to uncover the life of Joon Chi in Judo is very easy, but at the same time very extense, on the 31st of March of this year Joon celebrated his 64th birthday in which 50 have been dedicated to the sport of judo and his family, he lives for judo, he works tireless for the development of refereeing, one day Joon said: "Judo is my system of life, it is a positive influence that has had many effects in many facets of my life. The positive attitude of judo has allowed me to be around great people, and this has helped me to be the person I am today."
The Panamerican Judo Union inducted Mr. Joon Chi as an immortal member of the Panamerican Judo Hall of Fame and from these pages we will like to publicly recognize this great achievement. CONGRATULATIONS JOON!!! A very well deserved acknowledgement of all of your work and effort in favor of judo from this continent.